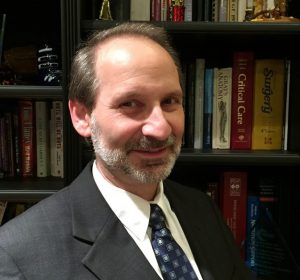 PROFESSOR SCOTT A. SHIKORA   MD, FACS, FASMBS

Scott Shikora, MD, FACS, FASMBS, attended medical school at Columbia University College of Physicians & Surgeons in New York City, New York and completed his surgical residency and Nutrition Support Fellowship at New England Deaconess Hospital in Boston, Massachusetts.  He then spent the next four years as a major and staff surgeon in the United States Air Force. He is a member of several medical societies and was active in committees and leadership.  He is a Past President and former Board of Directors member of the American Society for Parenteral and Enteral Nutrition. He was also both a Past President and a former Executive Council member of the American Society for Metabolic and Bariatric Surgery.  He currently is on the Executive Council and several committees of the International Federation for the Surgery of Obesity and Metabolic Disorders.  
Dr. Shikora is an Associate Editor of the surgical journal Surgery for Obesity and Related Diseases and the current Editor-in-Chief of Obesity Surgery.  Dr. Shikora has authored numerous book chapters and journal publications and has made hundreds of international and national presentations on bariatric surgery and nutrition support topics.  He also developed and directs the Bariatric Summit, an annual American bariatric conference and The World Congress for the Advancement of Surgery, an international surgical conference held in Israel.  
Dr. Shikora worked at Tufts Medical Center in Boston for over 16 years where he was the Director of the Weight and Wellness Center, and Chief of the Divisions of Bariatric and General Surgery.  During his tenure at Tufts Medical Center, he was also a Professor of Surgery at Tufts University School of Medicine.  Currently, he is a Professor of Surgery at Harvard Medical School and the Director of the Center for Metabolic and Bariatric Surgery at Brigham and Women's Hospital in Boston.  He is also the Chief Medical Officer of EnteroMedics, the device company that has developed the reversible vagal nerve blocking device, vBloc.
Dr. Shikora has also won numerous awards.  In 2011, he was awarded the Distinguished Alumni Award from his alma mater, Muhlenberg College.  In 2015 he was given the ASMBS Foundation Outstanding Achievement Award.  He has been recognized by Castle Connolly, as one of America's Top Doctors from 2005-2017 and Boston Magazine's Top Doctors from 2008-2017.
Dr. Scott Shikora lives in Sharon, Massachusetts with Susan his wife of 33 years. He has 3 children; Jonathan, Katie, and Samuel.