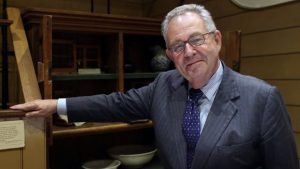 Professor. John Wass
John Wass is the Professor of Endocrinology at Oxford University and was Head of the Department of Endocrinology at the Oxford Centre for Diabetes, Endocrinology and Metabolism, Churchill Hospital in Oxford, UK until 2012.
His research interests include all pituitary tumours, especially acromegaly, adrenal disease, angiogenesis in endocrinology, and the genetics of osteoporosis and thyroid disease.
Since 1975 he has published over 385 articles in scientific journals and as well as written many reviews and chapters in textbooks including the Oxford Textbook of Medicine and DeGroot's Textbook of Endocrinology. He has also edited a number of different textbooks including the Oxford Textbook of Endocrinology, Clinical Endocrine Oncology and the Oxford Handbook of Endocrinology (3 editions). He was President of the European Federation of Endocrine Societies from 2001-2003 and was Chairman of the Society for Endocrinology (2006-2009. He has also served as President of the Pituitary Society.
This year he received the Lifetime Achievement Award by the Pituitary Society in the USA
He has won a number of prizes and given named lectures including the Jubilee Prize of the Society for Endocrinology. He was recently in June 2015 awarded the Distinguished Physician of the Year Award by the American Endocrine Society; the first non American to ever receive this award.
Amongst his charitable activities, he is Patron of the St. Pauls Way School (with Professor Brian Cox) and he founded the Pituitary Foundation.
He was Academic Vice President of the Royal College of Physicians in London, from August 2012 until August 2015.
He chaired the Royal College of Physicians Working Party 'Action on Obesity: Comprehensive Care for All' published in January 2013, and has been involved improving services for patients with obesity.
Recently he presented the acclaimed documentary 'The Fantastical World of Hormones' on BBC4.