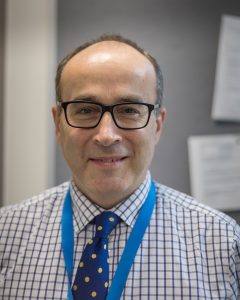 Mr. NICHOLAS MAYNARD BA (Oxon), MS, FRCS
Mr. Maynard is a Consultant Upper GI Surgeon at Oxford University Hospitals NHS Trust, and set up the Oxford Oesophagogastric Centre in 1997. He trained at Oxford University, Guy's Hospital, London and Melbourne, Australia.
His main interests are in the surgical management of oesophagogastric cancer and complex benign disease with extensive experience in laparoscopic revisional surgery for reflux disease, hiatal hernia and achalasia. He is a regular speaker at national and international meetings on these topics. He has written national guidelines on the management of oesophagogastric cancer and reflux disease and was the lead author of the 2016 Association of Upper Gastrointestinal Surgeons (AUGIS) Provision of Services document. He has strong interests in personalised staging of oesophageal cancer and assessment of standards of outcome of Oesophago-gastric cancer surgery.
He is Chair of Clinical Services and Audit for AUGIS and Surgical Lead for the National Oesophagogastric Cancer Audit. He has recently been appointed Cancer Lead for Oxford University Hospitals.