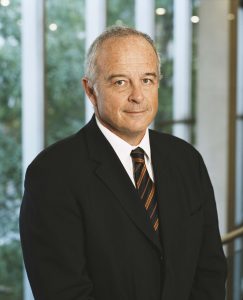 Professor GEORGE A. FIELDING MBBS FRACS FRCS (Eng) FRCS (Glas Hon)
Professor George Fielding is a general and bariatric surgeon, and Professor of Surgery at New York University (NYU) Langone Medical Center in New York, USA.
During his residency at the Royal Brisbane Hospital in Australia, starting in 1980, he developed interests in hepatobiliary and pancreatic surgery, and did fellowships in Glasgow, Gloucester and Bern, before returning to Brisbane as a consultant surgeon in that field. He was involved in the early days of the development of laparoscopic surgery, and has taught laparoscopic techniques to surgeons around the world. He's published more than 150 journal articles, abstracts, and book chapters describing these techniques and their outcomes.
Since the mid 1990's, he specialized in bariatric surgery, and his involvement increased after he moved to New York in 2006. In addition to general bariatric surgery, he has a special interest in pediatric bariatrics and revisional bariatric surgery, as well as hiatal hernia and paraesophageal hernia surgery.
In 1999, after years of struggling with weight-related problems, he had bariatric surgery himself, an experience giving him a uniquely personal perspective in our field. He has performed more than 10,000 bariatric surgeries. Caring for people with severe obesity and performing bariatric surgery with skill and compassion is his main goal.