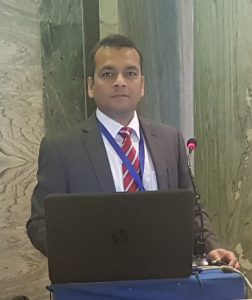 Mr. Chetan Parmar FRCS
Mr. Chetan Parmar
Consultant Bariatric and Emergency Surgery, Whittington Hospital, London
QUALIFICATIONS:
FRCS   Edinburgh 2014
MRCS Edinburgh 2006
DNB Diplomate of National Board 2005
PGDHHM Symbiosis University 2005
PGDMLS Symbiosis University 2004
MS                M. S. University, Baroda, India 2002
MBBS          M. S. University, India 1999
SURGICAL EXPERIENCE:
Consultant      Whittington Hospital Apr 16 - present
CCT Northern Deanery Feb 10 - Mar 16
(Bariatric training from Peter Small. UGI cancer training from Prof Griffin in RVI.)
Registrar and SHO Training   Liverpool, UK Feb 06 - Jan 11
Assistant Professor   M. S University, India May 02 - May 04
Master Degree Surgical Rotation M. S University, India July 98 - Apr 02
RESEARCH:
Dragons Den Winner for organizing a RCT at IFSO 2017
RCT Running 2 RCT's in collaboration with UCL Hospital, London
Publications        2  Book chapters in ''Essentials of Mini-One Anastomosis Gastric Bypass''
27  Peer reviewed publications
                >50  Published Abstracts
Presentations >50  Oral & Poster/International and National
Thesis   For 'Masters Degree in Surgery'
FACULTY:
International Faculty Spain 2018, Italy 2017, MGB-OAGB International Congress
UK     -Faculty at BSS, CCriSP, NSTC, ATLS instructor invitation
-General Surgical Skills Programme - Imperial College, London
TEACHING
Under Graduate UCL medical students at Whittington
Work Experience   3 students in the last year at Whittington
Simulation Course Developed laparoscopic skills course at the Whittington
LEADERSHIP AND MANAGEMENT:
Executive Committee MGB-OAGB International Club
Organisation MGB-OAGB International Conference, London 2016.
Service improvement Lead role in setting up new patient pathways for the AEC with the clinical lead
Cricket Member, Durham International Cricket Ground Medical Group
International Charity Member of 'Cricket Beyond Boundaries'
CLINICAL GOVERNANCE AND AUDIT:
NELA  - Implementing changes in the data collection for NELA.
M&M   - Active role with the audit lead in implementing changes in the M&M structure.
Audits - >20 audits over the years and implementing quality improvement changes.